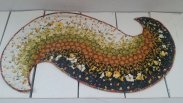 Spicy spiral table runner
February 14th 10:30- 1:00
$25.00


Stop wondering what else you can do with that 9 degree wedge ruler.

With the ruler and 8 fat quarters in your favorite combination or seasonal print fabrics creates this eye catching table runner in one class.



Panels, panels, panels
January 24th
10:30- 1:00
2 sessions
$45.00
Includes the required book.
There are so many cute panels and more options for finishing than border, border, and border! We will look at what can be done with book panels and directional panel scenes . This is a two-session class, where you'll decide what you want to do and learn how to implement your choices for a unique quilt.




Stack N' Wack
January 24th
5-8 pm
$25.00


Put the Stack and Wack mirror to fabric and view the variety of kaleidoscope affects from one piece of fabric. Then spend a few hours and learn this mesmerizing technique you will want to do over and over again.




Curvy Log Cabbin
February 7th
5-8:00 pm
$25.00

This class puts a nice spin on a traditional block using a Creative Grids Ruler.