Classes & Happenings



We would like to give a huge thank you to the Quilters of Kershaw County for allowing us to vend the KQG retreat this past weekend.

We had so much fun seeing the talent that could fit in one room. What a great group of ladies!






NEW IN THE SHOP




A few patterns from
The Little Thicket 10 blot collection
by 3 Wishes





A Peek at
Siena 10 bolt collection
by 3 Wishes




Spring Awakens by Henry Glass


AND MORE CATS!






Day Dreamers
by Henry Glass



On the way!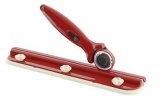 True Cut Sharpener


Sharpen all brands and most sizes of rotary blades in a few easy strokes with this high-quality sharpening stone, by using the same motion as cutting fabric - no need to remove your blade from the cutter! Sharp blades require less pressure to cut, giving you more precise cuts and less chance of slipping. Non-slip feet keep the sharpener from moving while in use.