Quilts of Valor!

2 years in the making!
We ran a challenge 2 summers ago to help Quilt of Valor fill the needs of local veterans and boy did you all step up!

Thanks to our great customers, Linda Carr for quilting them and lots of help binding, on Monday we we honored to presented 10 quilts to Veterans from the Air Force, Marines, Army and (a recently retired, 2 days before!) Navy! These fine men have gone on to protect Sumter in the Sumter Sheriff's Office.

We hope to get another challenge going this summer with the local coordinator.





Morning Glory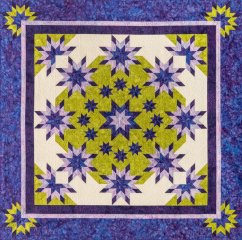 This stunning Lamoyne Star Quilt
uses Deb Tucker Rapid Fire Lemoyne Star and the Tucker Trimmer Rulers.

Carolyn will offer follow up classes using these rulers.

May 11th & 18th
10:30 - 4:30
$75.00
plus supplies






Hunter Star





Using Deb Tuckers Rapid Fire Hunter Star Petite Tool, you will be making 6" Hunter Star blocks with 2 or 3 colors of fabric and NO "Y" seams!

June 22nd
10:30-4:30
$40.00
Plus Supplies






Pinwheels With A Twist






Make a table runner or an entire quilt with this great technique. By turning the edges of a pinwheel you will love this curved look.

May 8th
10:30-1:00
$25.00
plus supplies
Linda Carr